My dearly-beloved co-blogger at The Galloping Beaver, the Lady Alison, was kind(?) enough to nominate me as a Kick Ass Blogger.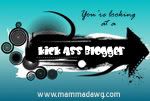 Thank you so much, Alison - I think.
Now it's my turn to spread the "joy". The following (in no particular order - really, I swear!!) are my nominations are for same said award. Each and every one are well worth you checking out, if you haven't already:
(Never mind that the above mentioned Lady Alison stole some of my faves . . . . )
Idealistic Pragmatist
Liberal Catnip
We Move to Canada
Runesmith's Canadian Content
The Wingnuterer
Here's the rules, folks:
Choose 5 bloggers that you feel are "Kick Ass Bloggers"
Let 'em know in your post or via email, twitter or blog comments that they've received an award
Share the love and link back to both the person who awarded you and back to www.mammadawg.com
Hop on back to the Kick Ass Blogger Club HQ to sign Mr. Linky then pass it on!
Tag, you're it, folks . . . .